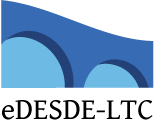 Welcome to the eDESDE-LTC - a European eHealth project
An operational system of long term care (LTC) coding & description which may be useful for EU comparison & for improving access on LTC information
Due to semantic variability and service complexity, existing national listings of services do not provide an adequate framework for patient mobility. eDESDE-LTC aims at developing an operational system for coding, mapping and comparing services for Long-Term Care (LTC) across Europe in order to facilitate semantic interoperability in this field.
The system includes a toolkit with the following components:
an instrument for standardized classification, description and utilization of main types of care for persons with LTC needs in Europe (DESDE-LTC). It incorporates basic descriptors and indicators in 6 European languages;
a coding system with a coding list and a glossary of terms;
a training package on semantic interoperability in eHealth (coding and listing of services for LTC) that includes a Case Book.
This website was developed for the project "eDESDE-LTC" which has received funding from the European Union in the framework of the SECOND Health Programme. This project lies within the priority area: Health information (HI 2007): eHealth. Duration: 1 July 2008 to 31 December 2010.
eHealth Project No. 2007116
PARTICIPANTS
Loading
NEWS & EVENTS
2012-09-25
Refinement Project - Summary
Summary of the REFINEMENT project. Presents the aim, objectives and expected results of the project funded under EU European Union Seventh Framework P...more
2011-12-05
Training courses on ESMS/DESDE coding
Two training courses on ESMS/DESDE coding were took place between 29 November and 2 December. The first in Verona, Italy and the second in Helsinki, F...more
The eDESDE-LTC Coding and Classification System, eDESDE-LTC Instrument, eDESDE-LTC Training Package and eDESDE-LTC website
by
eDESDE-LTC Consortium
are licensed under a
Creative Commons Attribution-NonCommercial-ShareAlike 3.0 Unported License